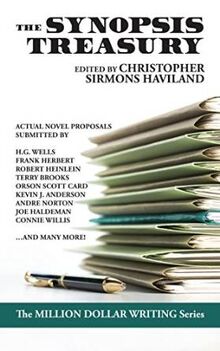 Title: The Synopsis Treasury: A Landmark Collection of Actual Proposals Submitted to Publishers
Editor: Christopher Sirmons Haviland
Date: Feb 2015
Publisher: WordFire Press
Link: The Synopsis Treasury
Summary:
A collection of actual story submissions to publishers by grandmasters, Hugo and Nebula award winners, international bestsellers and rising stars of science fiction and fantasy, including:
H.G. Wells
Jack Williamson
Andre Norton
Robert A. Heinlein
James Gunn
Frank Herbert
Ben Bova
Piers Anthony
Michael Bishop
Joe Haldeman
Terry Brooks
Robert E. Vardeman
Orson Scott Card
David Brin
Connie Willis
Janny Wurts
James P. Blaylock
Brian Herbert
Kevin J. Anderson
Bruce Coville
Margaret Weis
Nancy Varian Berberick
Robert J. Sawyer
Sara Douglass
Louise Marley
Roberta Gellis
Ian R. MacLeod
Julie E. Czerneda
Jacqueline Carey
Irene Radford
Judith Tarr
Chris Roberson
Eldon Thompson
plus editorial feedback by:
Frederik Pohl
Damon Knight
and an introduction by former Vice President and Editor-in-Chief of Del Rey:
Ever wondered what successful authors submitted to publishers? Ever wanted to peek over their shoulders and see their synopses or outlines, the ones that landed a book contract (and maybe even the ones that were rejected)?
Now's your chance.
Contained within these pages are never-before-seen story submissions by international bestsellers, grandmasters, and multi-award winners, and rising stars, each with an original biography and introduction.
But what about the publisher's response, you may ask? You'll find some of that here too! Have you ever assumed an editor will accept whatever a heavyweight author gives them? This collection will prove that no matter how successful you are, you may be asked to rethink, rewrite, and resubmit, and that's if the editor likes it.
Carefully selected by Christopher Sirmons Haviland over a span of ten years, these real story submissions in their context will supplement "how to write and submit" books by showing you how it's done.